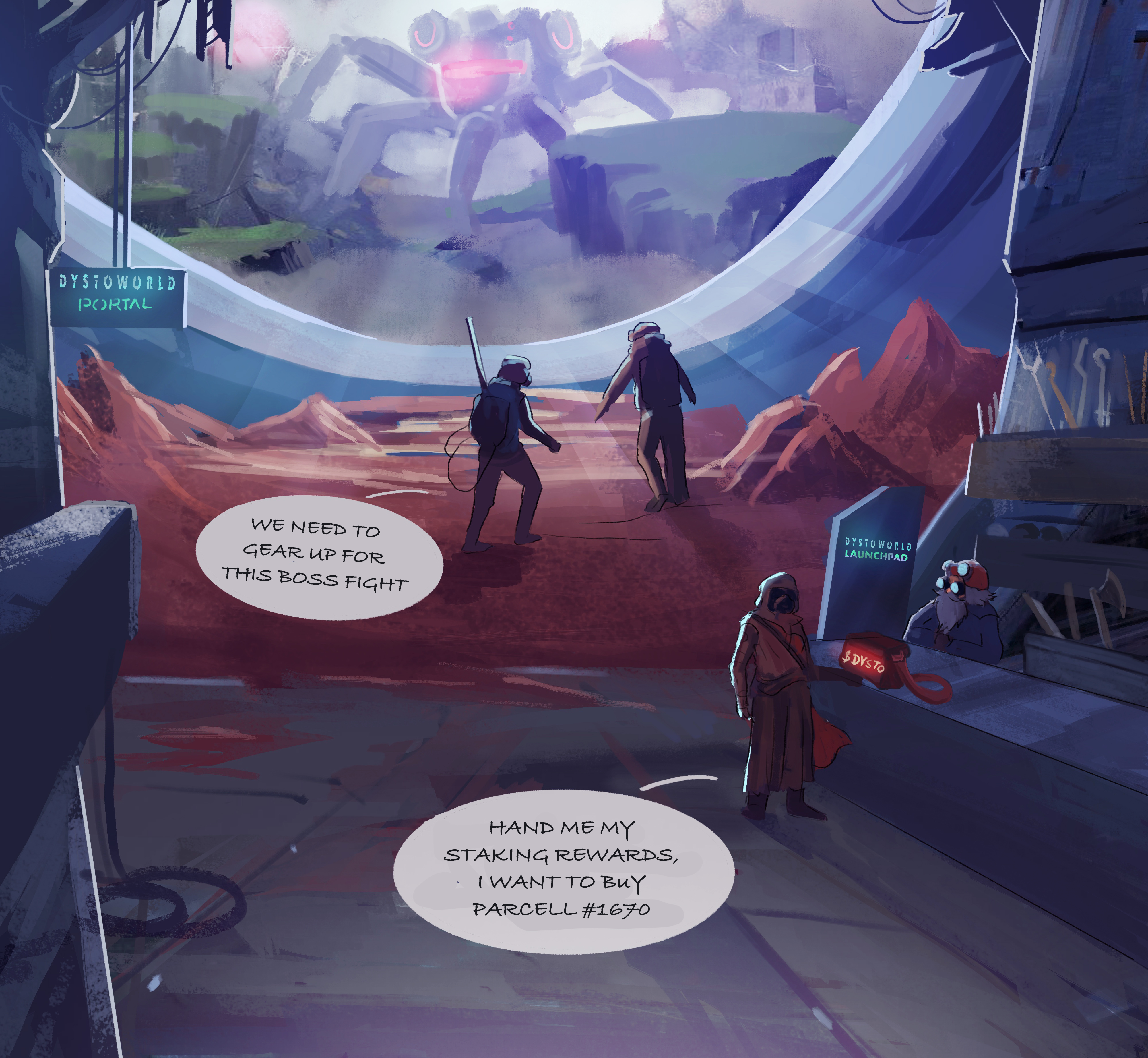 DystoWorld Launchpad
We recognize the difficulty of promoting and getting together a community to play and support a newly launched game. That's why, similar to a Launchpad for newly created tokens, we use the DystoWorld Launchpad to help game creators sell the digital goods provided by their games to our community, through our platform.
DystoWorld Portal
Similar to the traditional gaming platforms, DystoWorld Portal brings teams and their games together under the DystoWorld ecosystem. These games share their monetization methods through the $DYSTO token and are, in turn, promoted (after curation) by our team.
$DYSTO Token
The $DYSTO token is the basis of the interoperable gaming ecosystem hosted on the DystoWorld Portal. It brings together the in-game economy of the many different worlds that reside here, empowers players to monetize their digital experience and serve as Governance Tokens for both DystoWorld ecosystem, as well as for Dystowarz.
We believe that community-led governance through DAOs will play a significant part in the future of the internet. We will create DystoWorld DAO using AAVE's governance model to facilitate community-governed ownership of the DystoWorld ecosystem. DystoWorld DAO will be operated by staked $DYSTO holders, voting on all facets of the ecosystem, including token distribution, reward incentives for buying and selling on The Launchpad, and more.
With our community-first approach, we recognize that immediate value and utility are created not just by the platform but also by the creators that make use of its tools. Because of this, in our fair-launch primary phase, we will distribute free Parcels for you to display your NFTs and onboard integration with the wider DystoWorld ecosystem.
We also believe in the power of collective storytelling. As we move towards the metaverse, we think that the most robust communities will be the ones that have a say in shaping their own stories. That's why the community of DystoWorld DAO will also be able to vote on the surrounding lore and narrative of our proprietary game Dystowarz and decide on features and improvements for the ecosystem as a whole.
We want the story of Dystowarz to be shaped by each one of you. We aim to put the $DYSTO holders in a post-apocalyptic environment, testing their wits and adaptability while incentivizing them to create one of the most immersive stories the crypto-world has ever seen.